MultiBrax MB 650 MV MultiGrinder attachment
Groups: MultiBrax attachments
This unique MultiGrinder attachment changes a common, adjustable angle grinder into a belt file, a fillet weld grinder and a Roloc grinder.
Characteristics:
Attachment for use on angle grinder models Ø 125 mm with vario speed
Mounting:
M14-thread (metric) oder 5/8-11" (imperial)
Models:
Grinding attachment as belt file
Grinding attachment as fillet weld grinder
Grinding attachment as Roloc grinder
Weight:
Belt file attachment: 0,92 kg
Fillet weld / Roloc grinder attachment: 1,15 kg
(Total: 1,63 kg + angle grinder)
Dimensions:
35,5 x 8 x 6,2 cm (L x H x W) (data without angle grinder)
Data sheets
Application
Advantages
Video

The MultiGrinder offers many possible uses because it can be used as a variety of grinding devices. In addition to the large area of ​​application, the MultiGrinder has some special features:
as belt file
Application of common belt dimensions (Width: 6 - 15 mm, length: 520, 533, 610 and 650 mm)
The straight belt guide reduces the load on the belt closures
Due to the concave and cross-knurled drive wheel, a centric belt run is guaranteed
A wearing down of the grinding belt is nearly impossible due to the optimal spring tension.
as fillet weld grinder
This patented, low multifunctional roll (35 mm) allows working in angles, as e.g. at assembled hand rails
The slim design in combination with the small unitized compact discs (90 mm) allows working at hard-to-reach areas, as e.g. on fillet welds
The protective pipe over the driving beltprovides a higher occupational safety and a better handling.
as Roloc grinder
This patented, low multifunctional roll (35 mm) allows working with Roloc discs and also allows working in hard-to-reach areas.
Versatile application possible in tooling, mould construction, mechanical engineering, container, model, plane and engine construction
With adapter ZN 300 the direct inserting on the M 14 threaded spindle of the angle grinder is possible
Simple assembly, no tools required
High-quality, sturdy but light attachment
The protective pipe provides a higher occupational safety and a better handling
Contact arm and protection pipe are easily exchangeable due to the newly designed quick-change system
The slim design allows working in hard-to-reach areas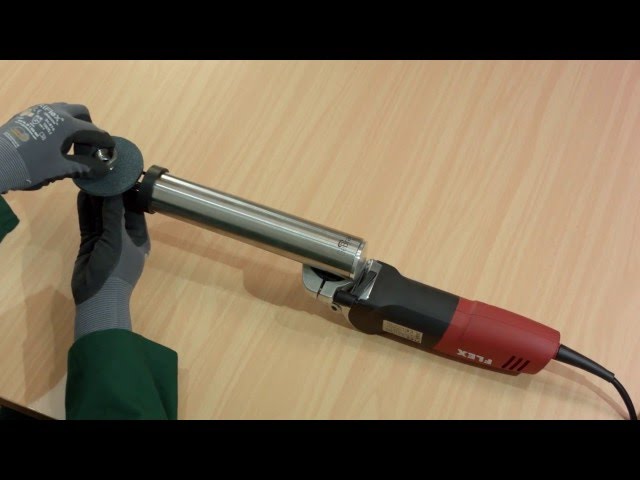 Accessory
Find the right accessories for MultiBrax MB 650 MV MultiGrinder attachment
MultiBrax MB 650 MV starter kit